Home
Download and print the KQDC Brochure
The Kinzua Quality Deer Cooperative (KQDC) was formed in 2000 by a group of deer hunters, sportsmen and women, landowners and conservation agency employees to sustain quality hunting in quality habitat for quality deer.  A partnership of forest landowners, forest managers, biologists, hunters, and local businesses, conducts this program on 74,000 forested acres in northwestern PA. Scientific research has been part of the KQDC program since the beginning, and this research has documented long-term improvements to deer, wildlife and forest habitat.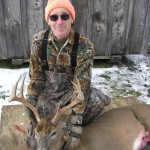 Today, the KQDC offers hunters a place to harvest a nice buck or doe.  It also has flocks of wild turkeys, numerous black bears, squirrels, and in areas of recent harvest grouse, and other small game.  Birders, hikers, recreational drivers and others have a good possibility of seeing diverse plants and animals, and hearing song from many different birds as they travel through this area with a good mix of forest age classes and habitats.
Deer management in the northeastern United States, and Pennsylvania in particular, has been controversial and difficult for over a century because of the impact deer have on their own habitat.  Where deer are overabundant, diversity and abundance of tree seedlings, shrubs, and wildflowers declines. Then, forest managers have difficulty sustaining the many benefits of  forests for future generations.
The objective of the partners who formed KQDC was to engage hunters and other stakeholders through sharing data and expressing gratitude for the important role they play in managing the forest ecosystem, resulting in improvements to habitat and herd quality while providing a quality hunting experience.
Combining deer science with adaptive management, the KQDC identified and integrated goals for deer management and forest management. The program centered on collecting and analyzing monitoring data to determine if the goals are being met.  As deer density and impact changed in response to management, hunting regulations were tweaked to adjust deer density and impact to achieve stated goals. Thanks to hunters and hunting, the desired deer density goals were met within 5 years.  Recovery in the plant community took much longer.  Forest managers have been able to successfully create young forest without fencing.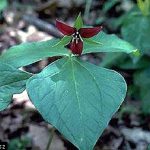 Wildflowers and tree seedlings are more abundant and more diverse, deer are larger, and wildlife species that enjoy young forest are more often seen.