Home
The Kinzua Quality Deer Cooperative (KQDC) is an on-going demonstration, begun in 2000, of how hunting can be used to meet the goals of multiple publics for managing deer.  A partnership of forest landowners, forest managers, biologists, hunters, and local businesses developed the program which relies on hunters to manage deer density on a representative forested area.  The program is conducted on a 74,000 acre forested demonstration area in northwestern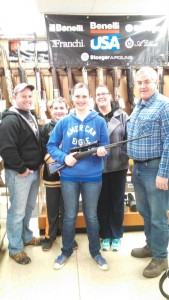 Pennsylvania.
Deer management in the northeastern United States, and Pennsylvania in particular, has been controversial and difficult for over a century because of the impact deer have on so many different publics.  For some, such as forest managers and ecologists, there have been too many deer.  For others, such as hunters and businesses dependent on recreational use of forest resources, there were not enough deer.
Deer browsing changed understory vegetation from desirable shrubs and tree seedlings to undesirable seedlings and ferns – foresters had to use fences and herbicides to give desirable seedlings and understory plants a chance to grow.  At the same time, the large and famous deer herd attracted thousands of hunters to the area annually, and businesses catering to hunters flourished.
Combining deer science with adaptive management, the KQDC identified and integrated goals for deer management to benefit affected publics. The program centered on collecting and analyzing monitoring data to determine if the goals are being met.  As deer density and impact changed in response to management, hunting regulations were tweaked to adjust deer density and impact to achieve stated goals. Thanks to hunters and hunting, the goals were met after 5 years, and continue to be met.